Our Kids Tipi is a miniature replica of our full size Sioux tipis. It is 8 ft. in diameter and stands approx. 7 ft. high. The smoke flaps and lacing pins function exactly like our full-size tipis, and the tipi set-up procedure is the same as our larger tipis. Our kids tipis can be set up outside in the yard, on a porch or a deck. Choose to order the tipi with our 4 ft. long dowels that are sleeved together to make 11 poles, or source your own 10 ft. long poles. When set up inside, be aware that any tipi collapses easily when it is not staked down. You could order 5 sand snakes and tie the cover peg loop to those sand snakes for a sturdier set-up.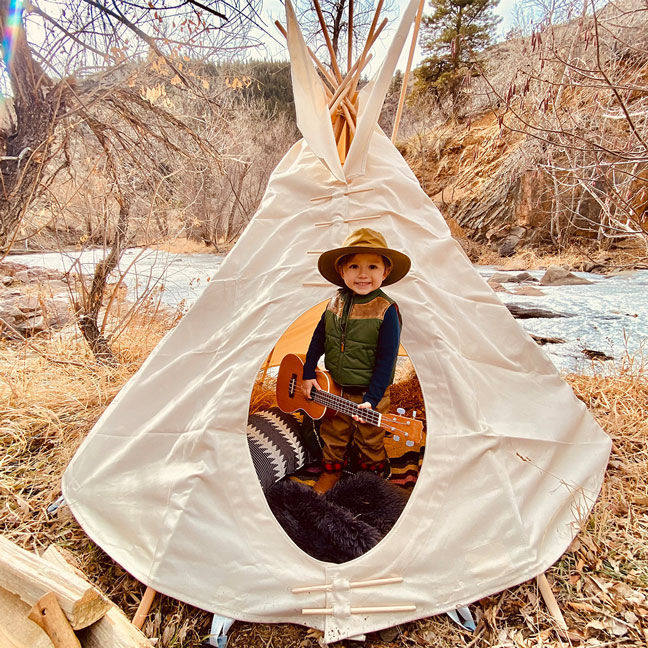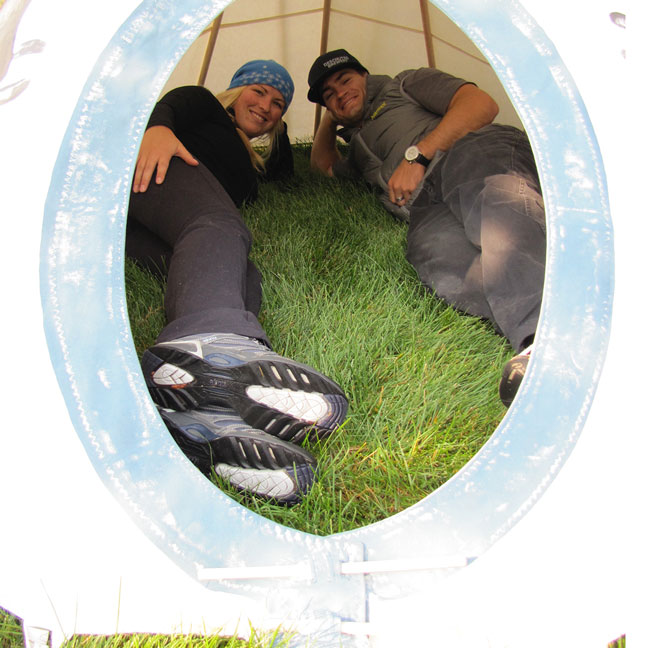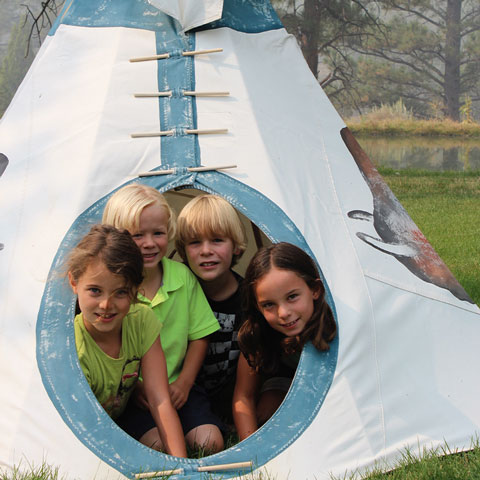 A kids tipi is an ideal educational toy that children can grow with. From a preschool rainy day hide-out, through cultural studies at school, camping out in the yard and scouting, the kids will get years and years of use from their tipi. Six children can easily play in an 8 ft. tipi – or two adults and one child can use it for a summer overnight stay.
CAUTION: Our tipis are NOT made out of flame resistant fabric, to avoid exposing kids to toxic chemicals. Please let us know if you would like your kids tipi to be made from our 15 oz. Sunforger flame retardant canvas. Kids tipis are designed for play only. DO NOT BUILD A FIRE OR USE A STOVE IN OUR KIDS TIPIS !!

You can choose to order your kids tipi plain or with a beautiful printed three-color silk-screened design on each side of the door opening. This special design is a buffalo skull shield trimmed in eagle and hawk feathers with sacred hoop-rings and a red trade blanket sash. We also would be happy to custom paint your kids tipi for you, and almost all standard designs can be adapted to the 8 ft. tipi size. Please ask us for pricing.
It would be a wonderful experience for your children to paint their own tipi. Any brand of exterior house paint will work well and will hold up for many years. Children can also add additional decorations to their tipi. The wooden lacing-pins can be painted and feathers, ribbons, or horsehair can be hung from the tops of the tipi poles or from the ends of the smoke flap pockets.