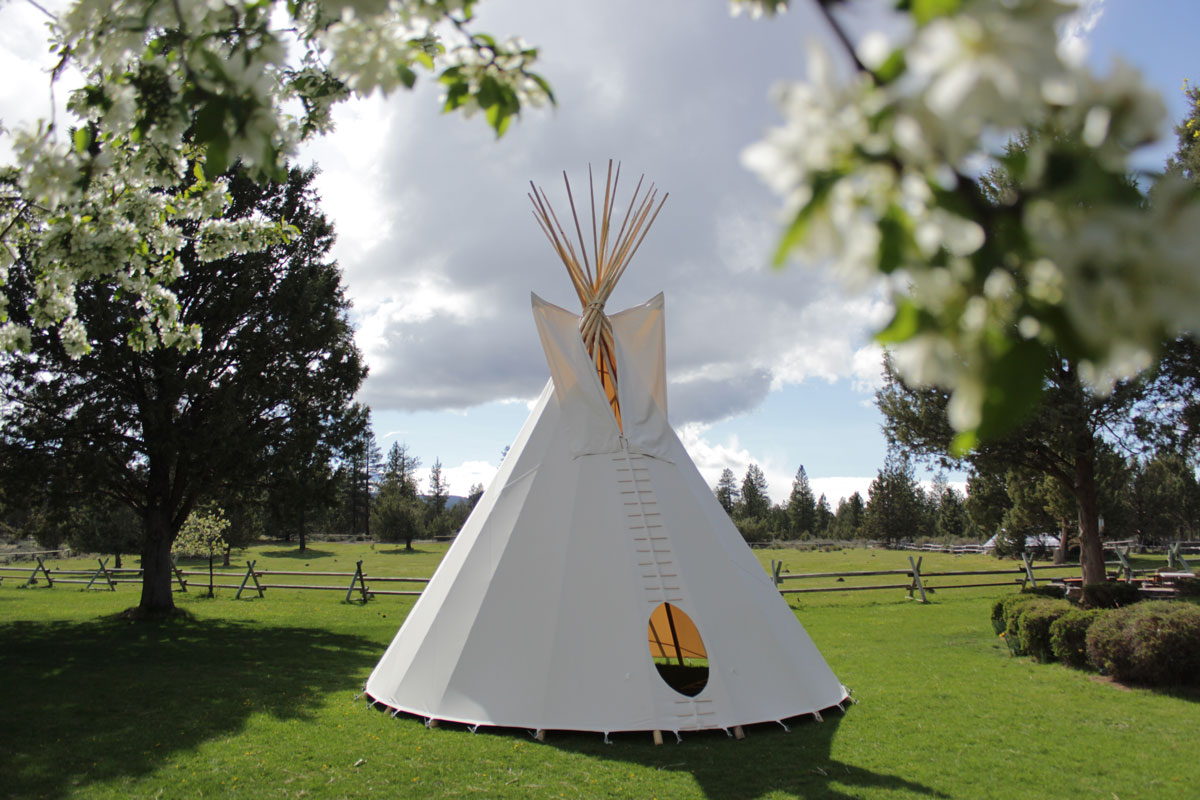 Our fabric comes in 36" rolls which are cut by hand on our cutting table. For covers, we offer lightweight 10oz. army duck and 13oz. army duck, 
for travel, events, gatherings, and recommend them both for use in the summer season. The 15 oz. is the fabric of choice for most customers and can be used year around, if cared for properly.  We are also offering a new 15 oz. fabric made of a blend of 45% polyester, 55% cotton (non-organic) to customers in wet climates. Since 2022, we are not carrying the tan fabric anymore, because the increased UV radiation causes the tan dye to fade out too quickly. All our tipi covers can be painted tan for a uniform background color or stained tan to achieve our signature 'antiqued buckskin' look.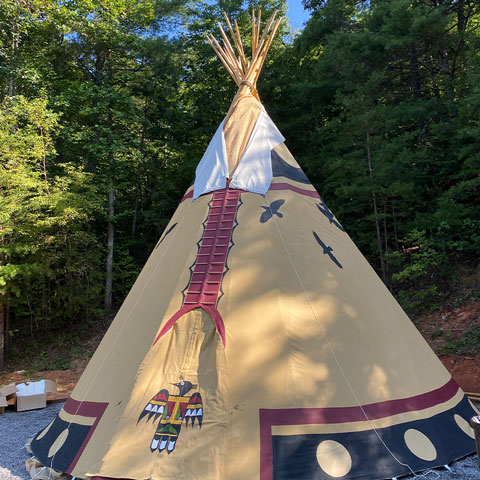 White canvas with a painted tan background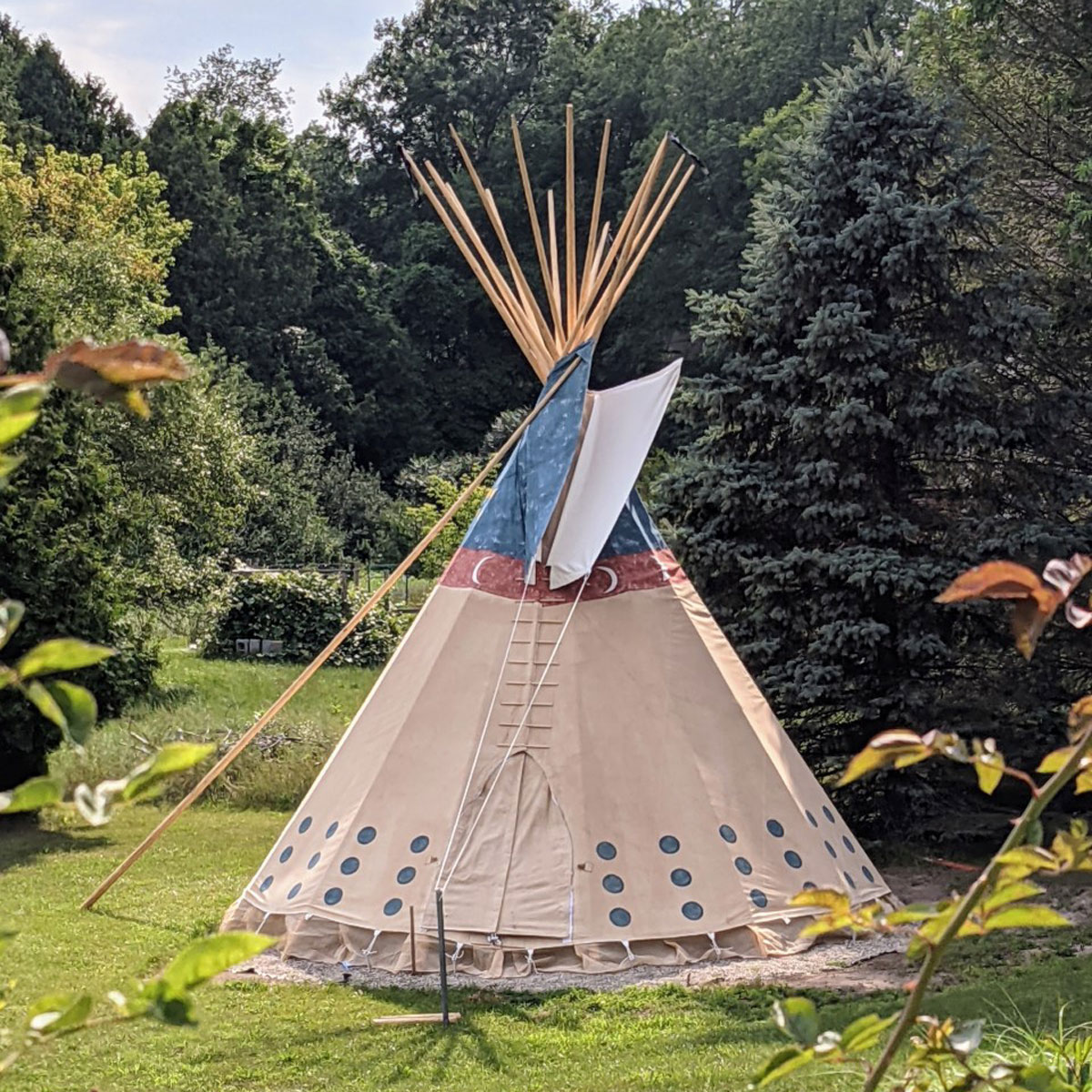 White canvas with a stained tan background
In keeping with the tradition of using cotton canvas for tipis, we source 100% organic cotton, grown and woven in India. Cotton is a natural fiber, it is biodegradable, breathable and translucent. Once the cotton arrives in the USA, it is treated with a water repellent, mold and mildew resistant Sunforger® treatment, the most common and effective treatment in the industry. To render the fabric flame resistant, the canvas goes through a secondary process where additional chemicals are applied to the fabric. The Sunforger® Flame Resistant fabrics are resistant to fire in accordance with CPAI-84 standards for fire protection.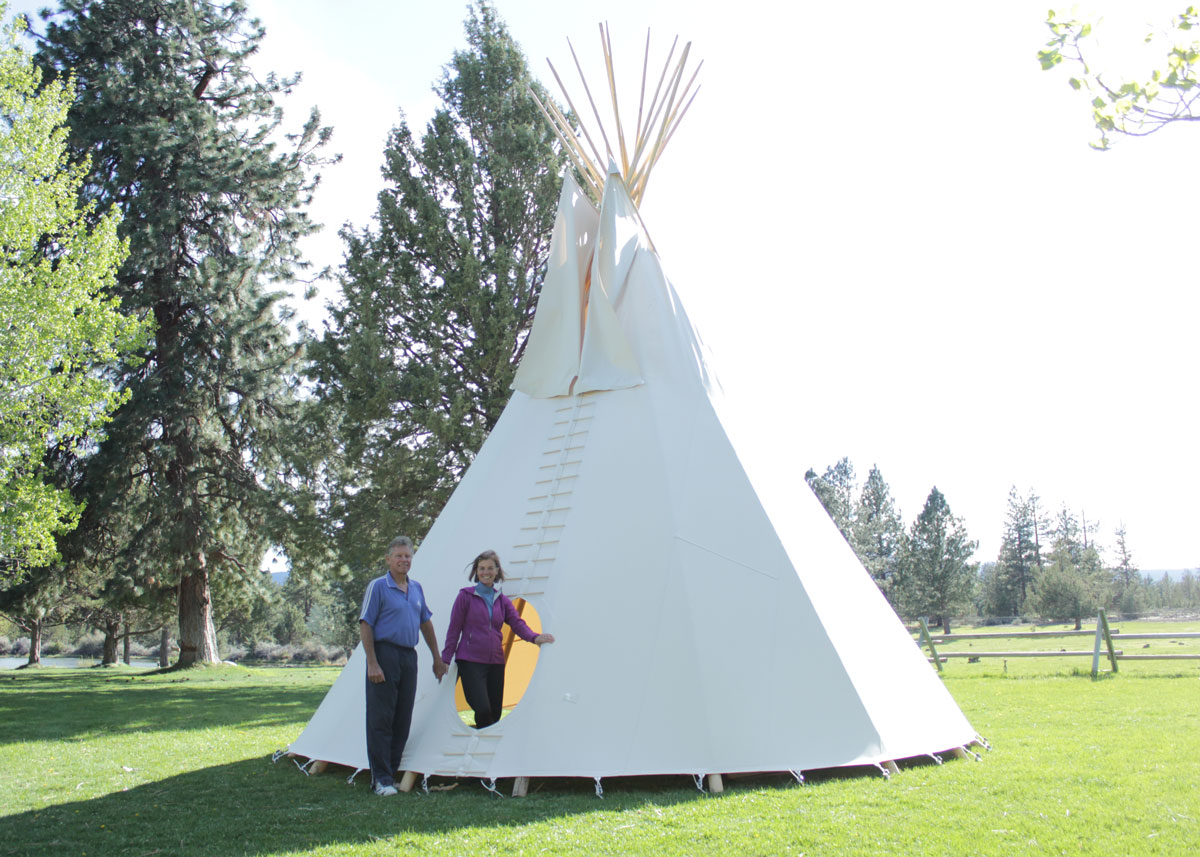 Any of our flame resistant fabrics can expose you to chemicals, including lead and antimony, which are known to the State of California to cause cancer and birth defects or other reproductive harm. Our flame resistant fabrics carry a respective warning label and you can find more information at www.P65Warnings.ca.gov . Please also note that Sunforger® does not have a specific UV inhibitor in it, and strong UV will cause premature fabric breakdown unless you apply an additional UV protectant.
For areas where cotton might mold due to high humidity, we have sourced an exclusive poly/cotton flame resistant fabric in white, which comes treated directly from India and is NOT certified according to CPAI-84 standards. We are constantly researching its longevity. Please ask us about it if you are interested.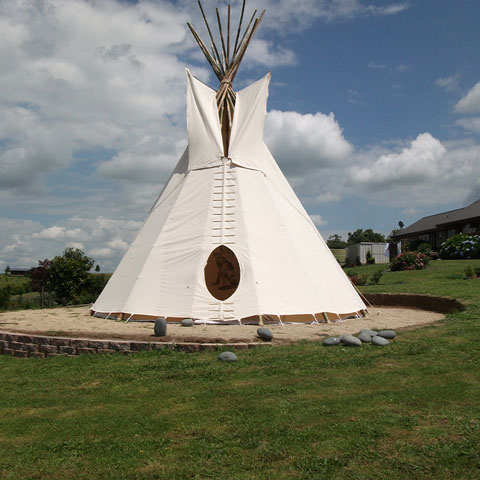 We have been making tipis since 1970. In the beginning, we used both untreated cotton army duck canvas and 13 oz. treated army duck canvas, which held up very well. A 10-year lifespan for the cover was standard and expected. However, since the ban of heavy metals such as mercury in the use of fabric finishes, we have seen our tipi covers last considerably less when used all year around. We are aware that ultraviolet radiation from the sun, increasing air pollution and proliferation of mold and mildew are the most destructive factors to the longevity of cotton fabric, combined with a decrease in effectiveness of the fabric treatments themselves. In today's world, a cotton tipi cover made from the sturdy 15 oz., 100% organic cotton can last from 4-5 years in a moderate, mostly dry climate if you choose not to use additional protective finishes.
In hot and humid or wet climates, we recommend the use of additional protective finishes even before you set up your tipi for the first time. Please read about our recommendations in our 'tipi Care' section. We can also paint your cover completely with either a base color of your choice or fully paint it with beautiful designs. Our Photo Gallery has many examples of these 'Mural Tipi Designs' in the Custom Design section. Paint will perform as a protective finish, the same way it protects untreated wood in any building project. It will, however, reduce the breathability and the translucency of the canvas to a degree, and it will make it somewhat less bright inside.