We created the Campground Model in 2015, after a brainstorming session with Scott Cory, a very loyal customer and owner of Ventura Ranch, KOA, in California. You can watch our interview with him here Scott asked us to improve on the standard tipi design by making a larger door entrance, a sturdier and lockable zipper door and adding some additional protection against rodents and other small creatures. That year, we engineered our now patented Zipper/Mosquito Screen Door, which defines the Campground Model. Please watch our video that summarizes all comfort features that a Campground Model can offer.
We also were able to source a very sturdy mesh that could be custom woven for our needs. We are sewing an 18" wide strip of this mesh onto the bottom hem of the tipi cover as a protection against critters. We also use this mesh to cover the smoke flap opening as protection against mosquitos. Our Critter Guard and our Mosquito Guard are so popular that we can also add it to the Traditional Model. Therefore, the choice of the Nomadics door solution (door flap vs. zipper door) is the only deciding factor that determines whether your tipi is a Traditional Model or a Campground Model.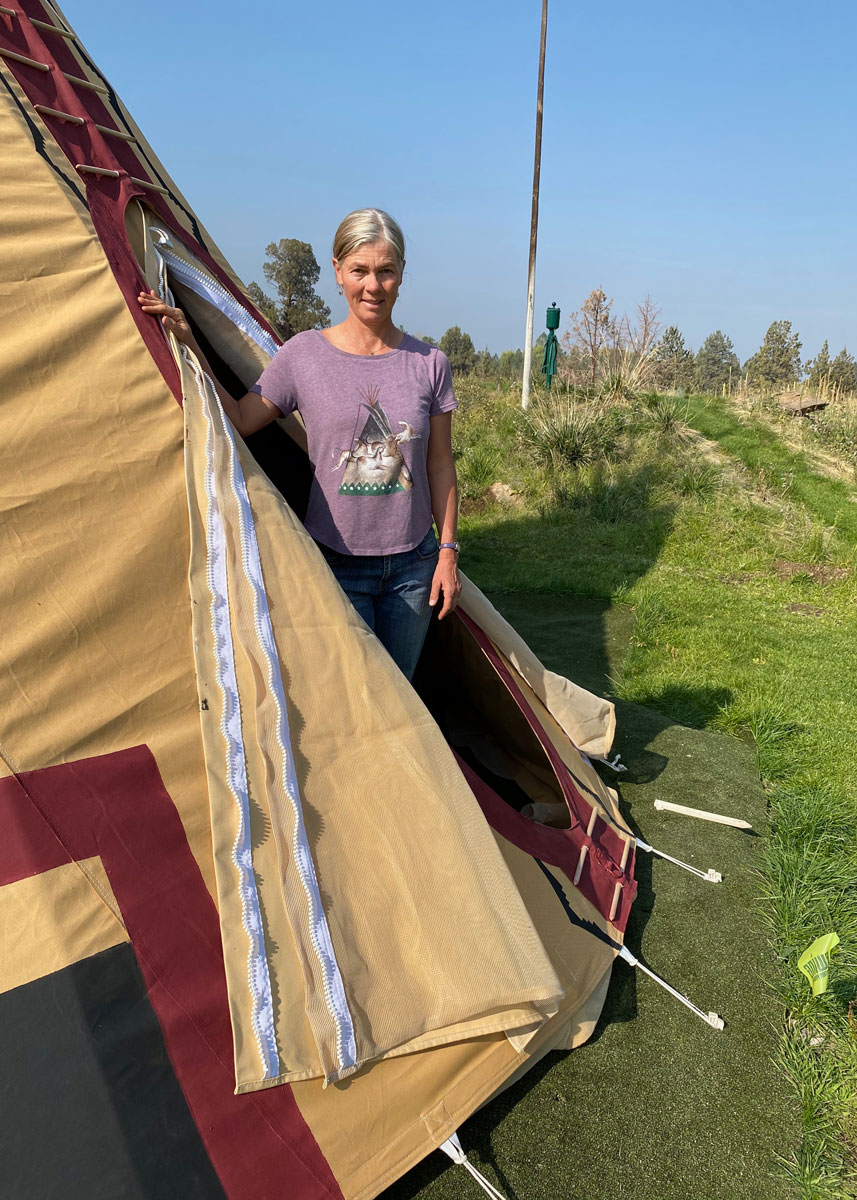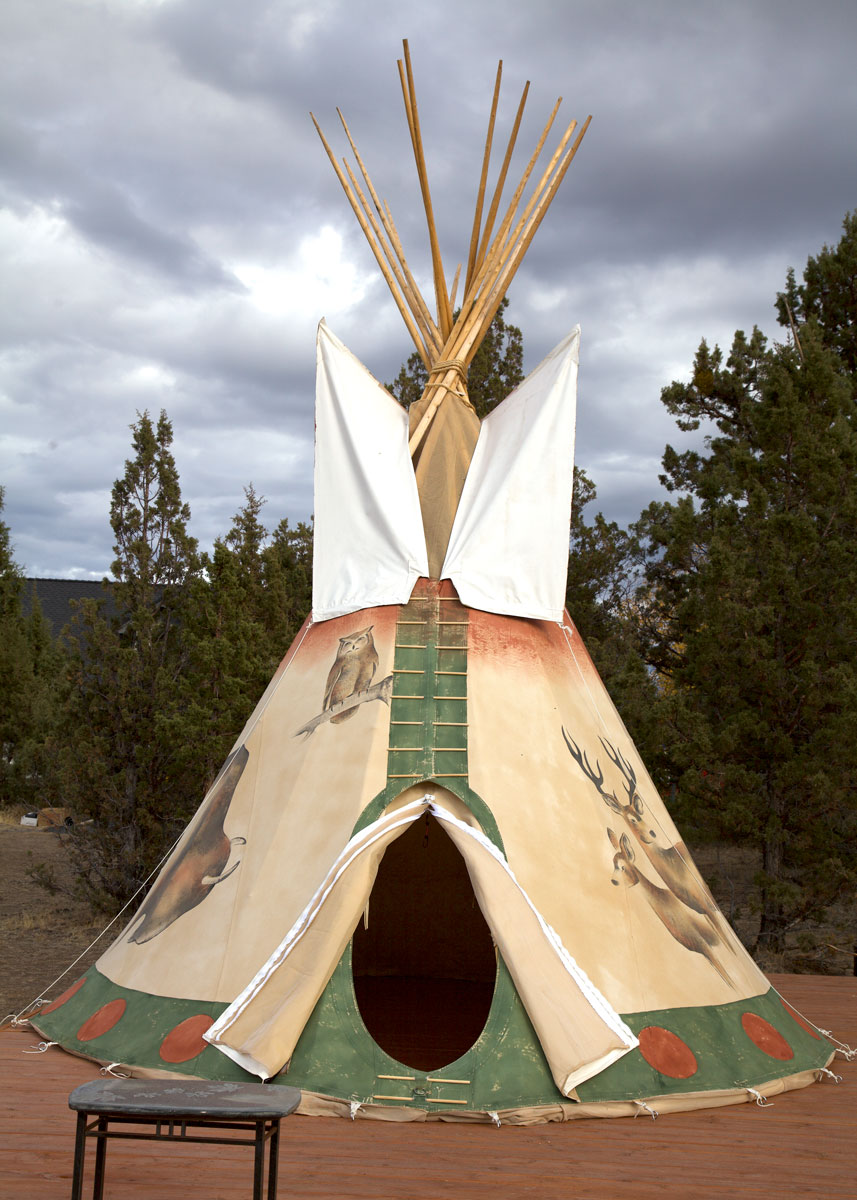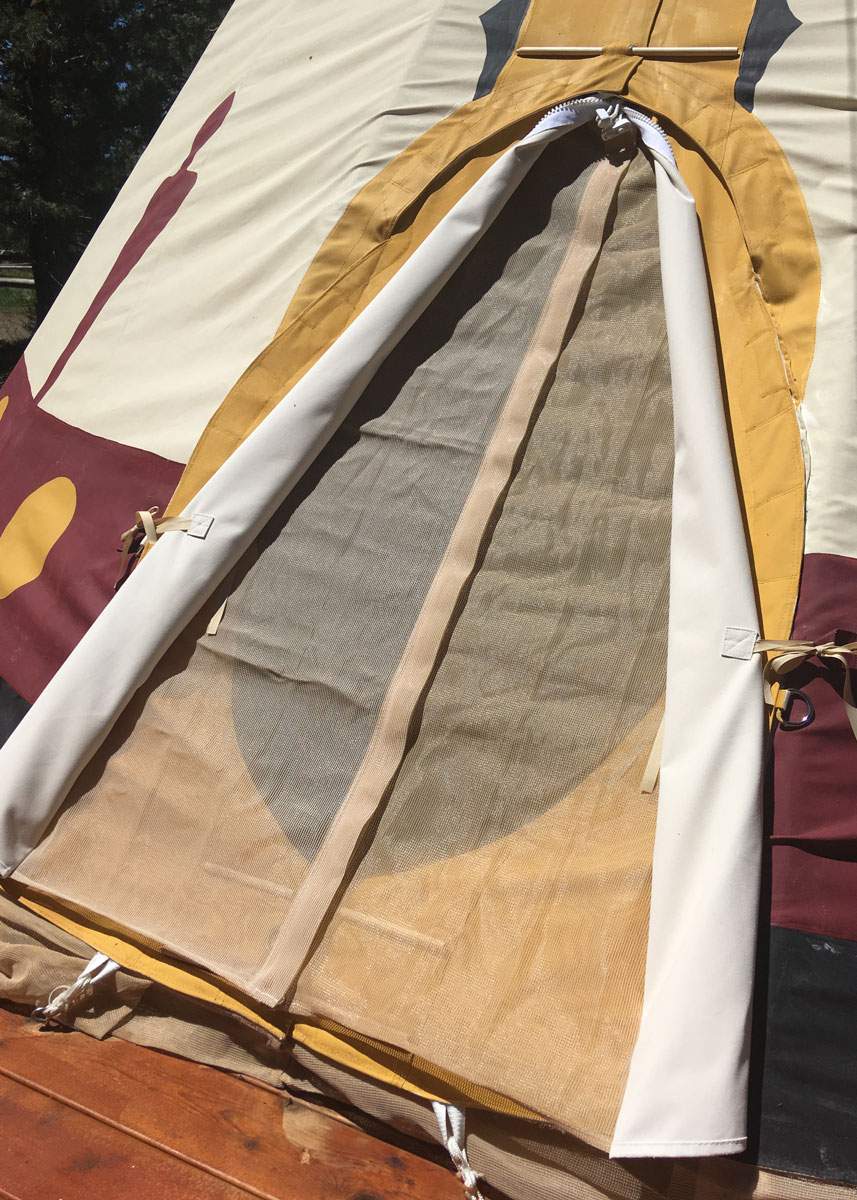 The Traditional model tipi design gives the feeling of a classic Plains teepee, as you duck your head to step through the oval door hole. It has a standard 3'9" door opening which is covered by a door flap. Our pattern is the basic Sioux design explained in Laubin's book, The Indian Tipi. Available in 13oz and 15oz fabrics, the Traditional model is heavy duty and ready to live, or camp, in seasonal and year-round weather conditions.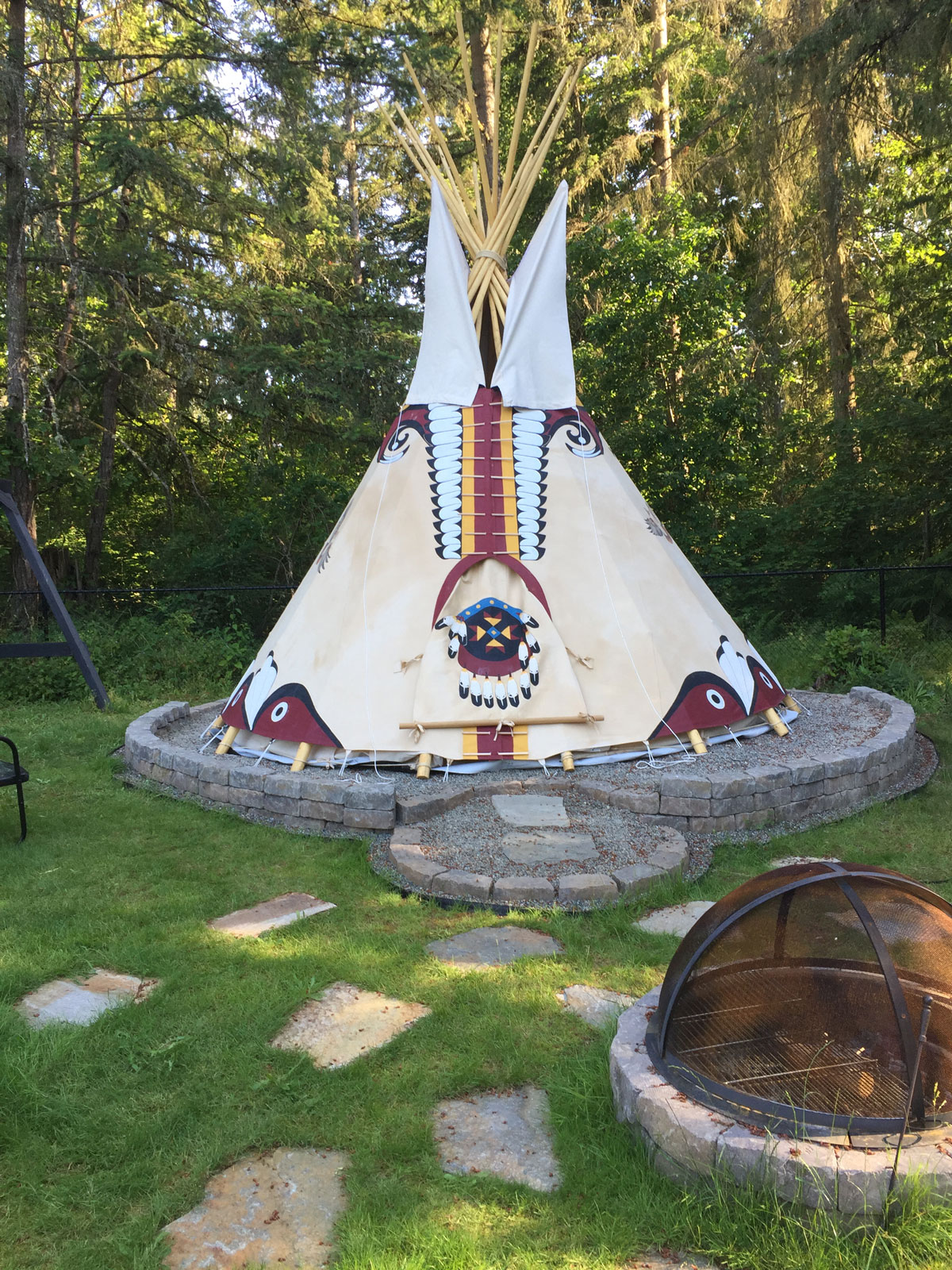 Our SEASONAL TRAVEL TIPI is a traditional model tipi made out of a very lightweight 10oz Sunforger treated, organic white army duck fabric – our liner fabric. This fabric is soft, light and is sufficient for a temporary set-up for a weekend, or even a week at the powwow, rendezvous, or out camping. While the fabric is lightweight, we still adhere to all our quality standards in our craftsmanship and we are applying all our standard reinforcements. We offer this cover in the travel sizes 12 ft. – 18 ft. only and it represents our commitment to providing access to tipis, to all who are interested in this experience. The price of these covers are calculated to reflect our actual cost, we do not make any profit on them, which means they are not part of our Native American or volume order discount programs. If you have the means to spend more, we encourage you to make a donation to our Nomadics Scholarship Program, or to www.lakotalaw.org. These covers are sold at cost to individuals only, one cover per person.

Glamorous camping is spending a night in a tipi that is cozy, warm, dry and safe, so you can enjoy the experience in comfort. Glamping has become a new favorite for the outdoor travelers. Instead of staying in boring motels, the road trip enthusiasts now seeks out unique accommodation experiences in yurts, tree houses, a Conestoga wagon – or in a Native American tipi. You will find many of our campground model tipis offered by individuals on airbnb.com, glampinghub.com or hipcamp.com. Campgrounds, retreat centers and resorts have also started to offer glamping accommodation to their guests.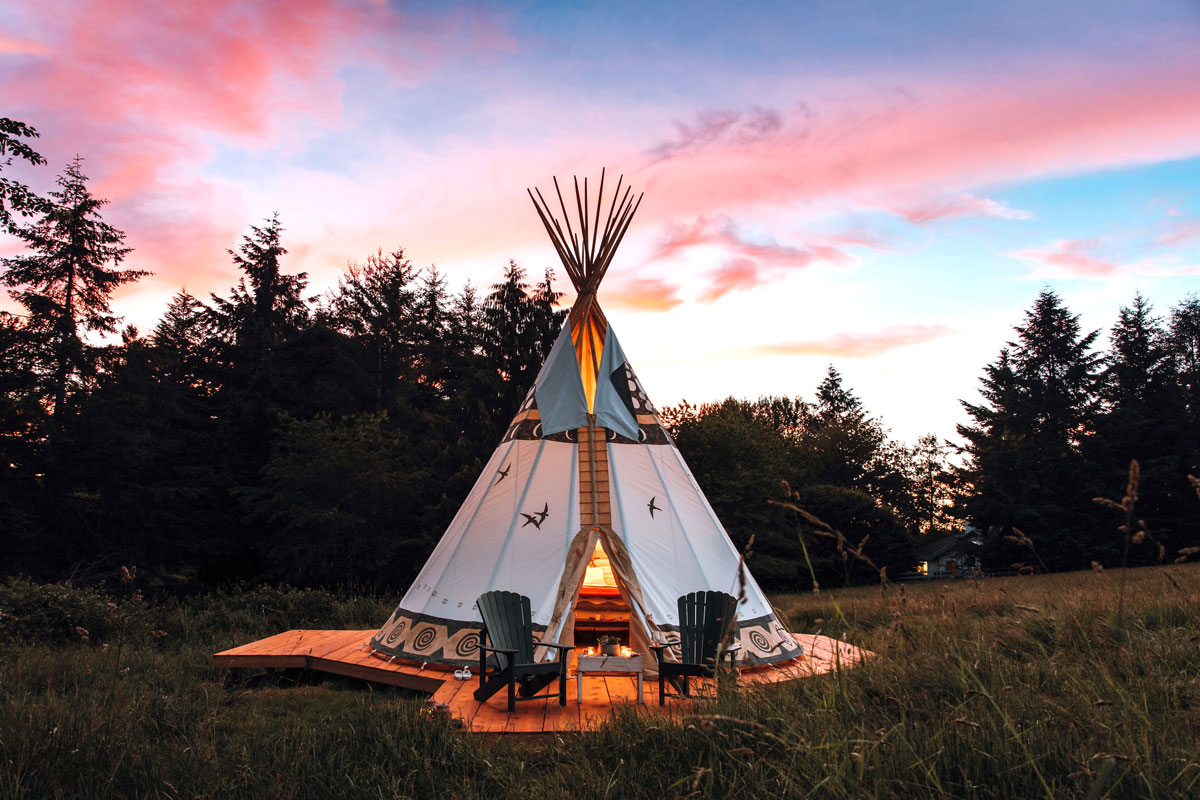 Glamping Style Teepee on Platform (22ft)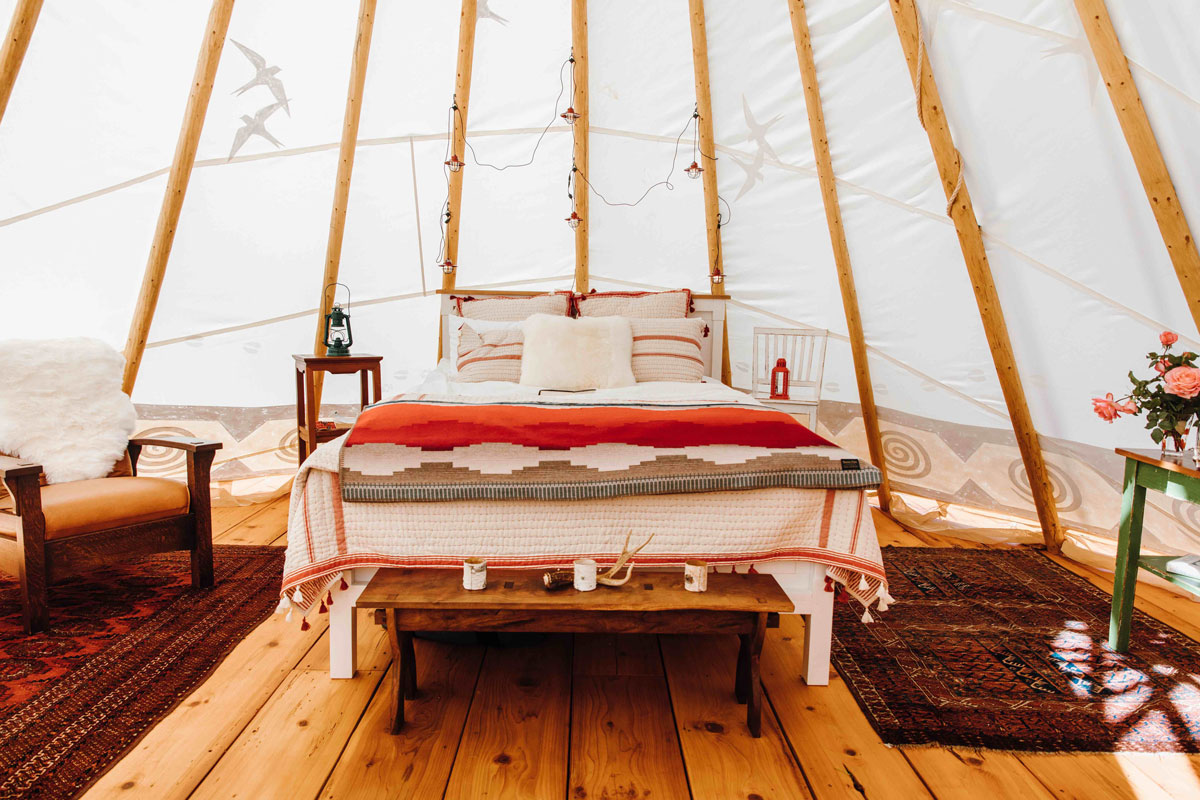 Inside Glamping Teepee (22ft)

If you are interested in offering the tipi living experience to paying guests – or if you would like to add some comfort for your own friends and family, we have composed a consultant brochure for glamping in form of a flip book as well as the 40 min video shown above, about the use of tipis as glamping accommodations. Here you will find suggestions and ideas about decks and flooring, heating, cooling, furniture, bathroom solution, lighting, profit calculations and turnkey packages.