We offer you two styles to choose from, and you can see many examples of each style in our photo gallery. The Antique Wash technique gives the design the appearance of having been painted a long time ago by Native artists using brushes made of grass, reeds or animal hair. Part of the canvas will show through and the Antique Wash is also extremely translucent when observed from the inside. By contrast, the Solid Paint style creates clean, crisp lines, covers the canvas completely and is much less translucent. Our photo comparison shows 'Two Natives on Horses' painted in the Antique Wash style vs. the same design painted in the SW Paint style.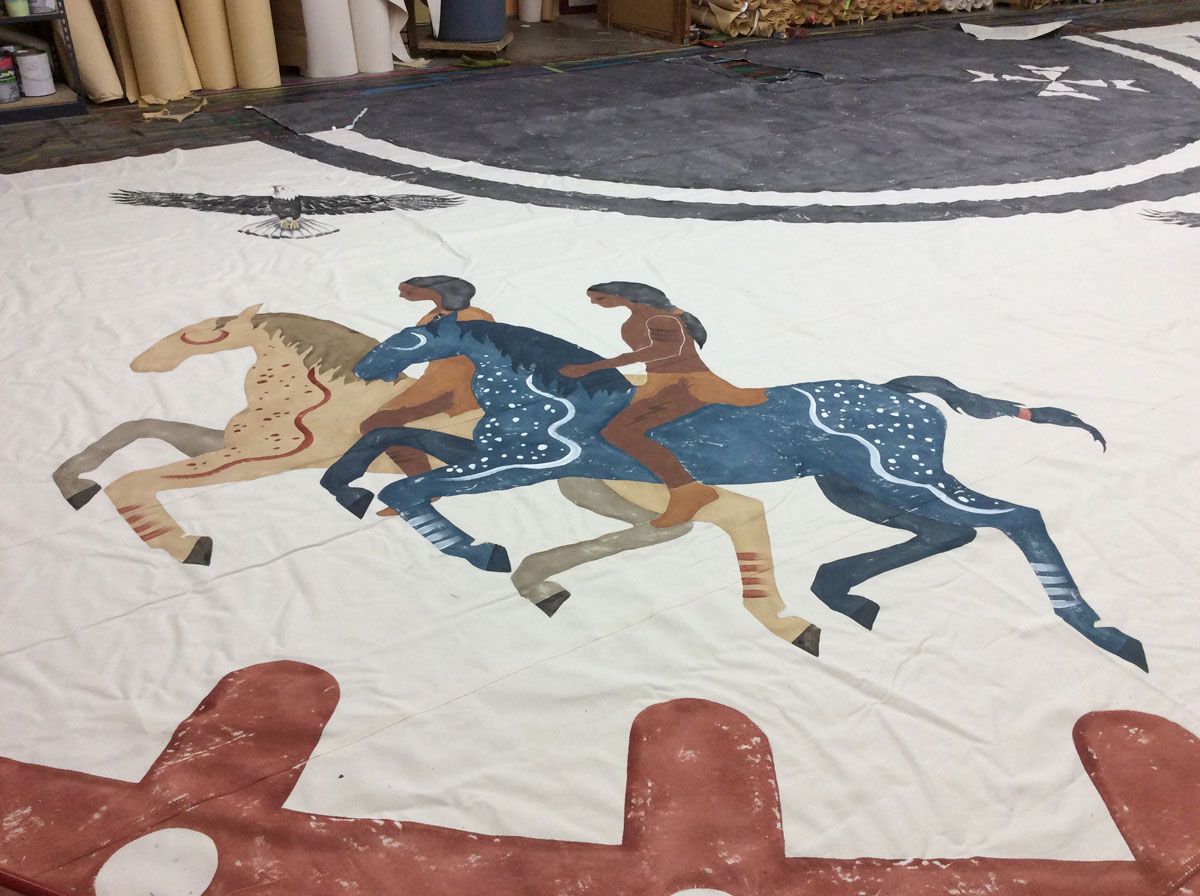 'Two Natives on Horses' painted in Antique Wash style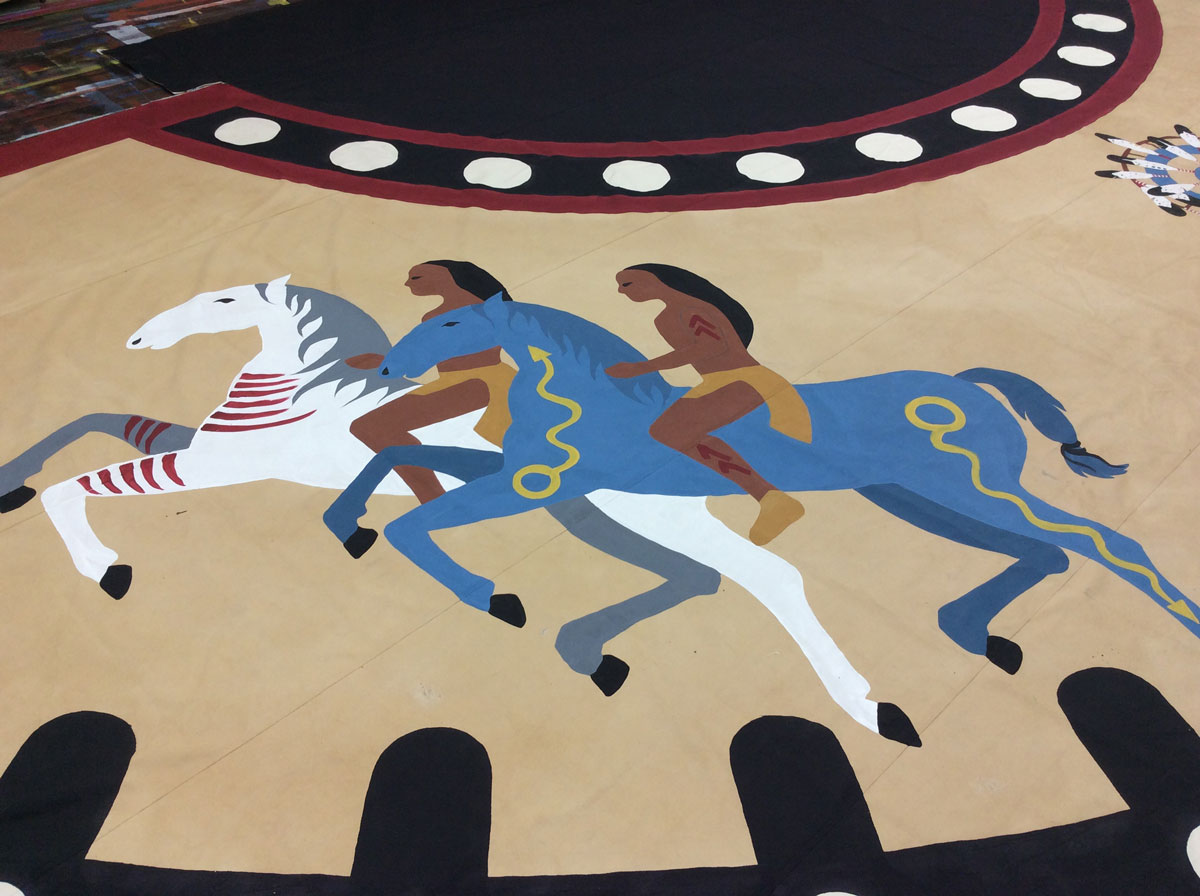 'Two Natives on Horses' painted in SW Paint style
The color palette of the Antique Wash style uses soft colors that have the organic hues and tones of natural plant minerals and dyes. The color palettes of the Solid Paint style consist of either primary, bright colors or the tones of the South West. Unless you specify otherwise, we will stay within a specific color palette when painting your tipi.
This photo comparison shows 'Chasing Horses' in SW Paint with a terracotta top vs. the same design in Bright Paint, with a bright red top.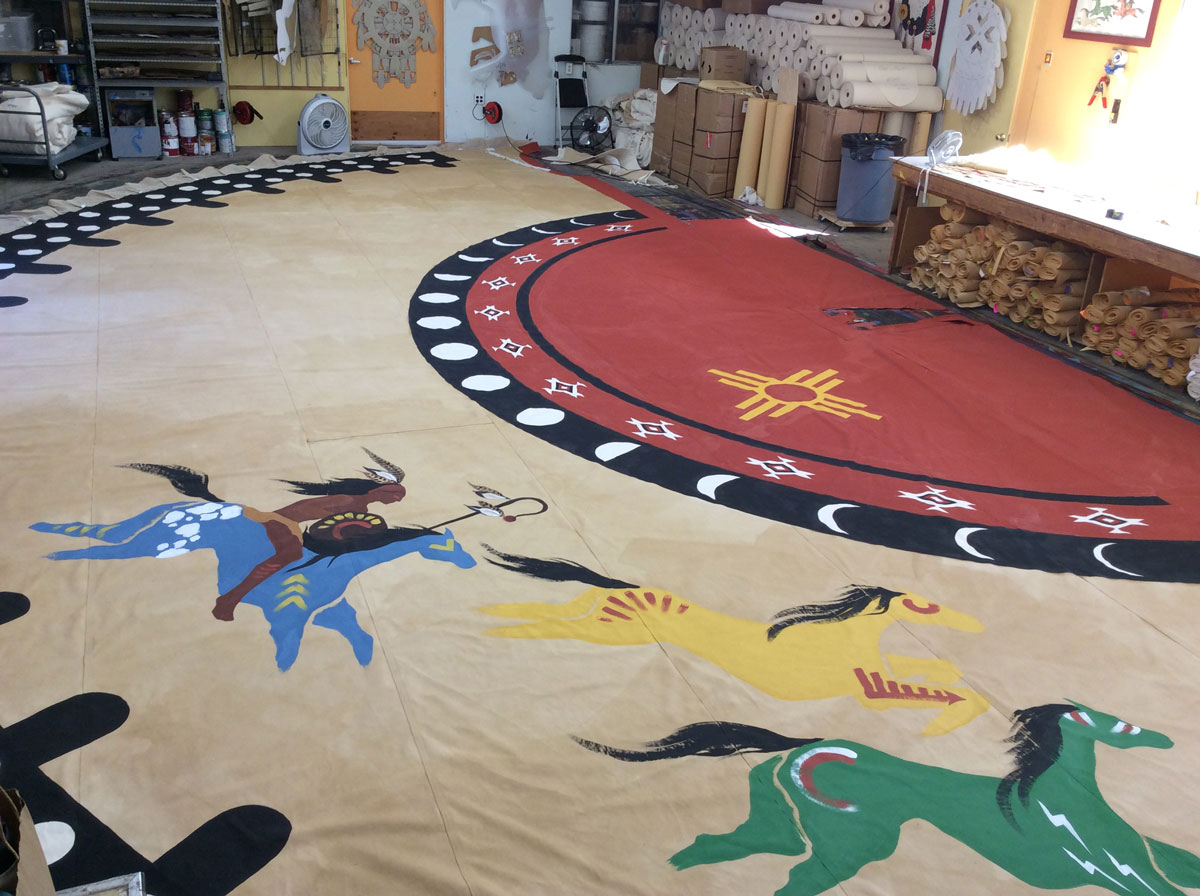 'Chasing Horses' in SW Paint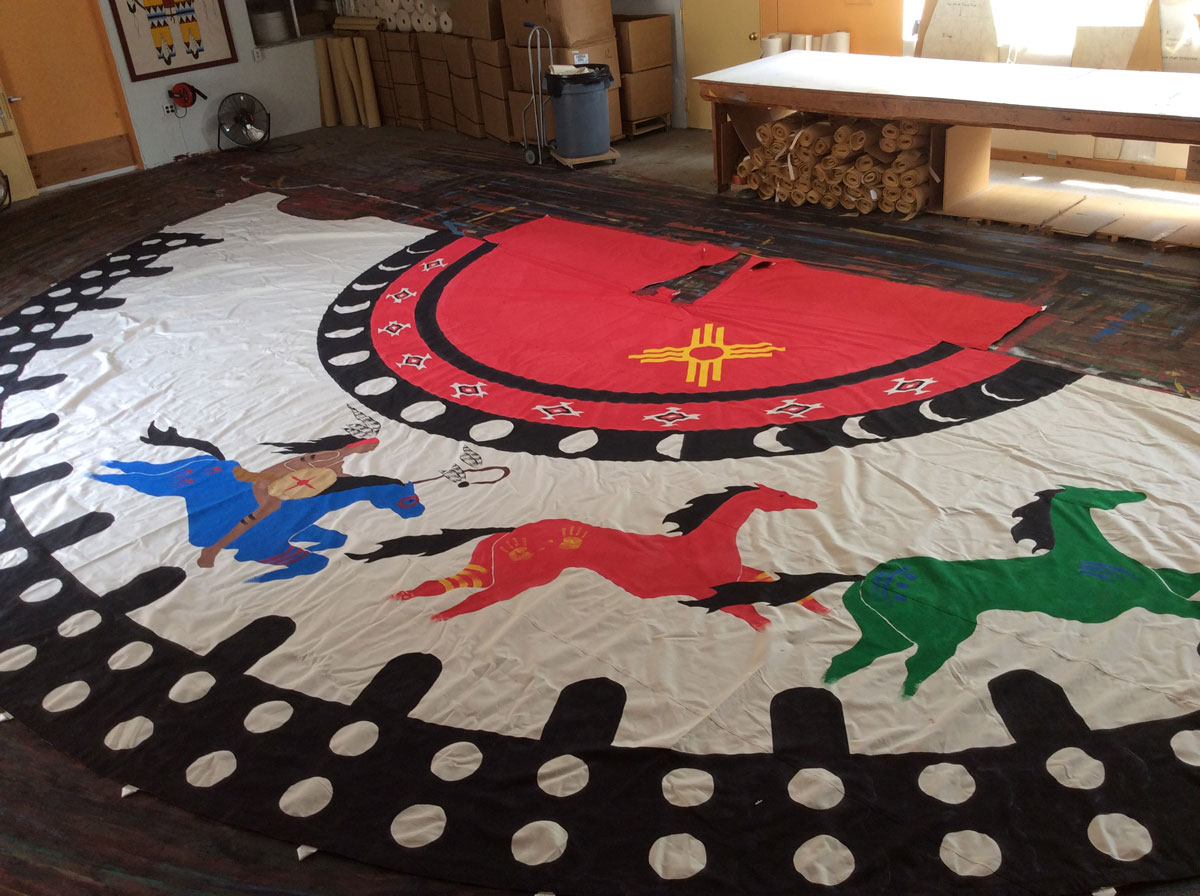 'Chasing Horses' in Bright Paint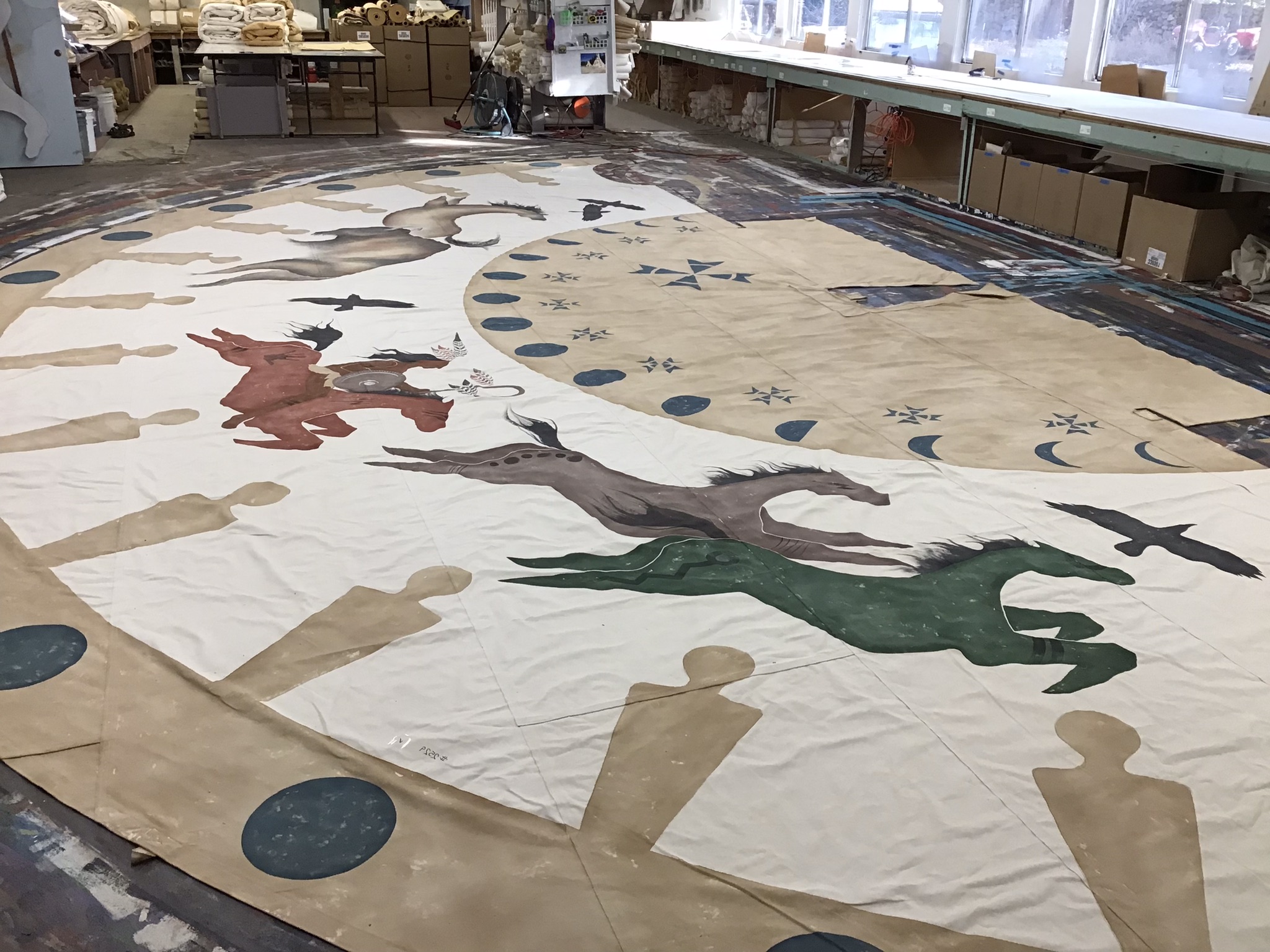 'Chasing Horses' in Antique wash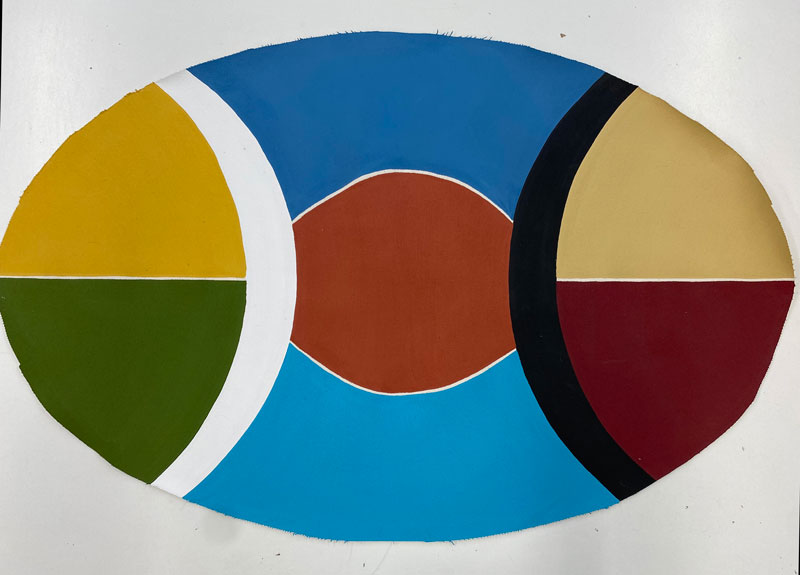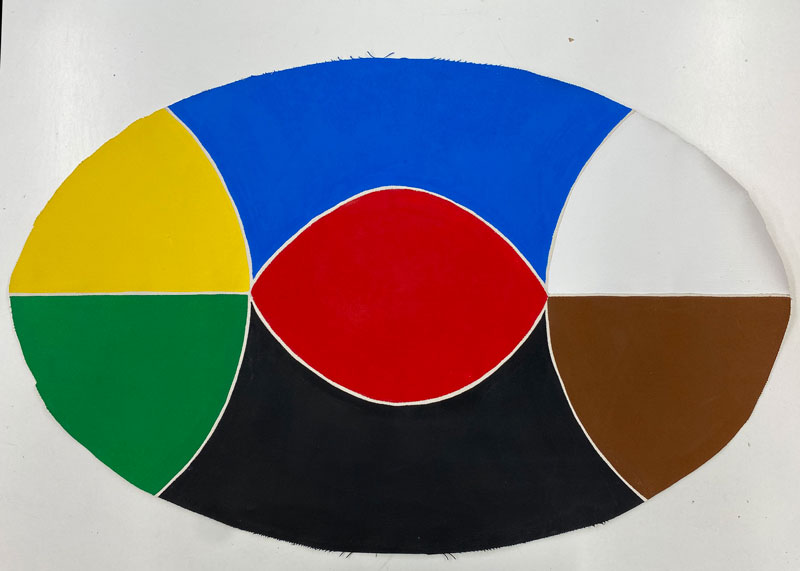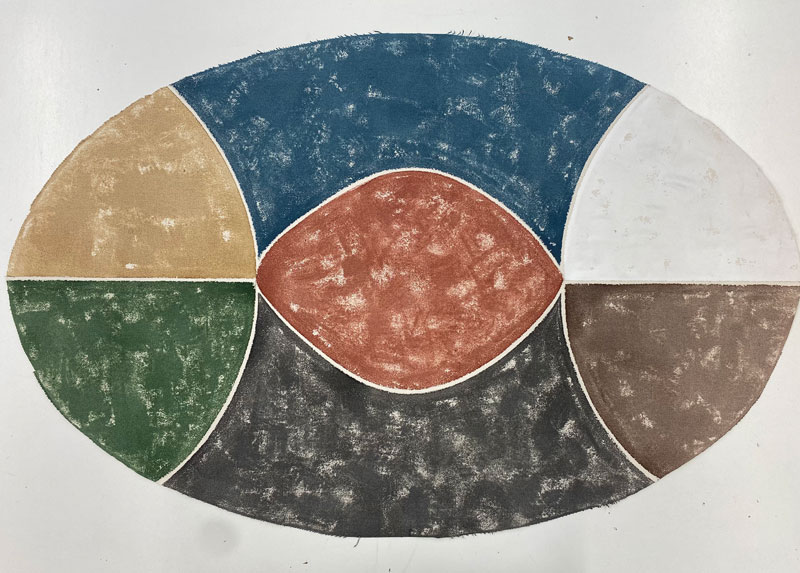 White tipi stained tan with antique wash artwork
As the canvas color of your tipi will mostly be white, all fabrics can be stained tan or painted off-white or tan as an overall background color. The picture shows a tipi cover that has been painted white in the forefront and a white tipi with stained tan bottom in the back.
We stain backgrounds tan to give the tipi an even more antique look, as the irregularities of the staining process resemble the look of leather. The stain is very translucent and ages very nicely, although it fades under strong UV radiation. We paint backgrounds in adobe/tan or off-white to give the fabric more longevity. Paint acts as weather protection. Customers who do not want to treat their fabric with a mold and mildew inhibitor or UV protectant often choose to have the background painted. Please note that you cannot choose the Antique Wash Style for artwork once your background is painted with white or adobe/tan paint.
We offer a variety of top designs, top bands, different middle area designs, bottom designs and liner decoration strips for you to choose from. All these designs, with the exception of our pictograph animals, will have the same price whether they are painted in the Antique Wash style or the Solid Paint style. You can find most of these designs in our Tipi & Art Builder, and we encourage you to use this fun tool to create your own personal tipi artwork design. In this section, you can view all standard middle area designs that we offer, as the pictures in the Tipi & Art Builder are graphical representations only.
Our pictograph animals are our signature design, created by Jeb when we started artwork in the 1980s and continued by Kris, our head of the artwork department, over the last two decades – whenever you see them, you know that this is a Nomadics tipi. We have stencils for 15 different animals in certain sizes, and can therefore offer these 15 animals at a discounted price. Our artists can also design any other animal in this style, and you will find many examples in the photo gallery. They will be hand drawn according to a picture that you provide, and priced according to the time it takes to paint them.
Another dominant theme of rock artists are shaman figures and shaman spirits. Our shamanic figures resemble ancient rock art of the Southwest. With few exceptions all native and aboriginal cultures around the world have always believed that spirit beings are the original true source of all physical beings. This includes not only human beings and all other living creatures but everything in existence as well: trees, grasses, rocks, rivers, mountains, canyons, deserts, the sun, moon and stars, and even moods and attitudes like humor, sadness, courage and fear. The presence of these powerful yet benevolent spirit beings had a great significance in ceremonies, rituals and in everyday life, and shaman figures can add a unique cultural and spiritual element to both your cover or the inside of your tipi.

SHIELD DESIGNS AND MURALS
The Shield Designs are very versatile. You can use them as a center design on the side of your tipi or on the back. They are particularly beautiful painted on the tipi liner in conjunction with the liner decoration strips. Most of the shield designs can be used as door designs as well.



CHASING HORSES AND BUFFALO HUNTER
The very versatile center designs "Chasing Horses" and "Buffalo Hunter " can be chosen in any style, with any colors from our color palettes, and in any order and combination. For instance, you could have the horse with rider chasing more than two horses that encircle the entire tipi, or you can choose only horses or buffalos on the tipi without any rider. Each horse or buffalo is approximately 6′ long and 4′ high. Choose colors that complement your tipi design or leave the color selections up to the Artist.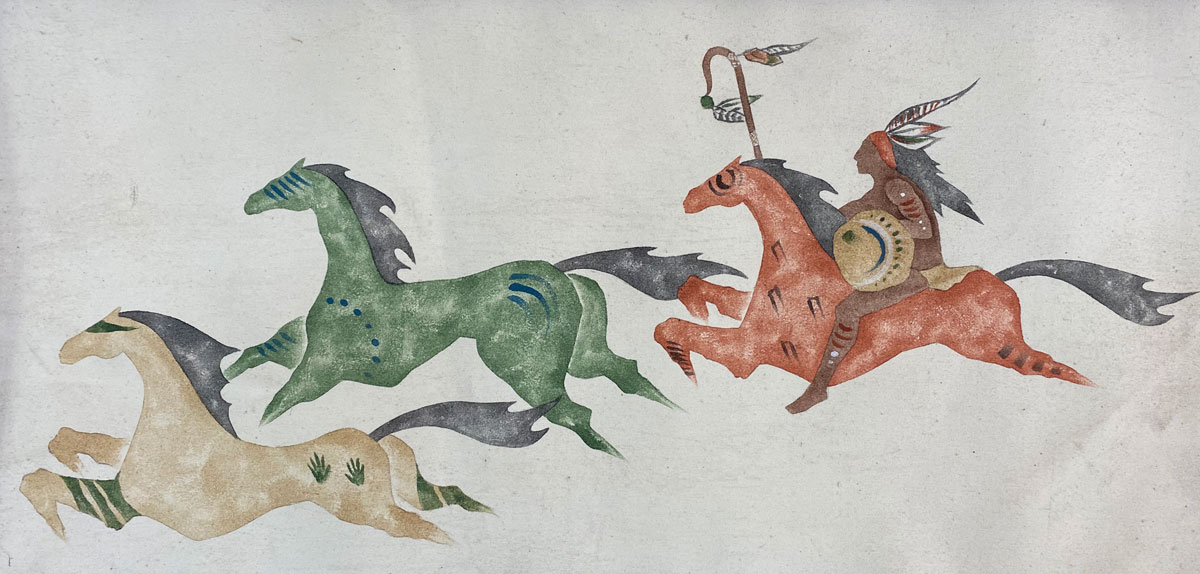 'Chasing Horses' in Antique Wash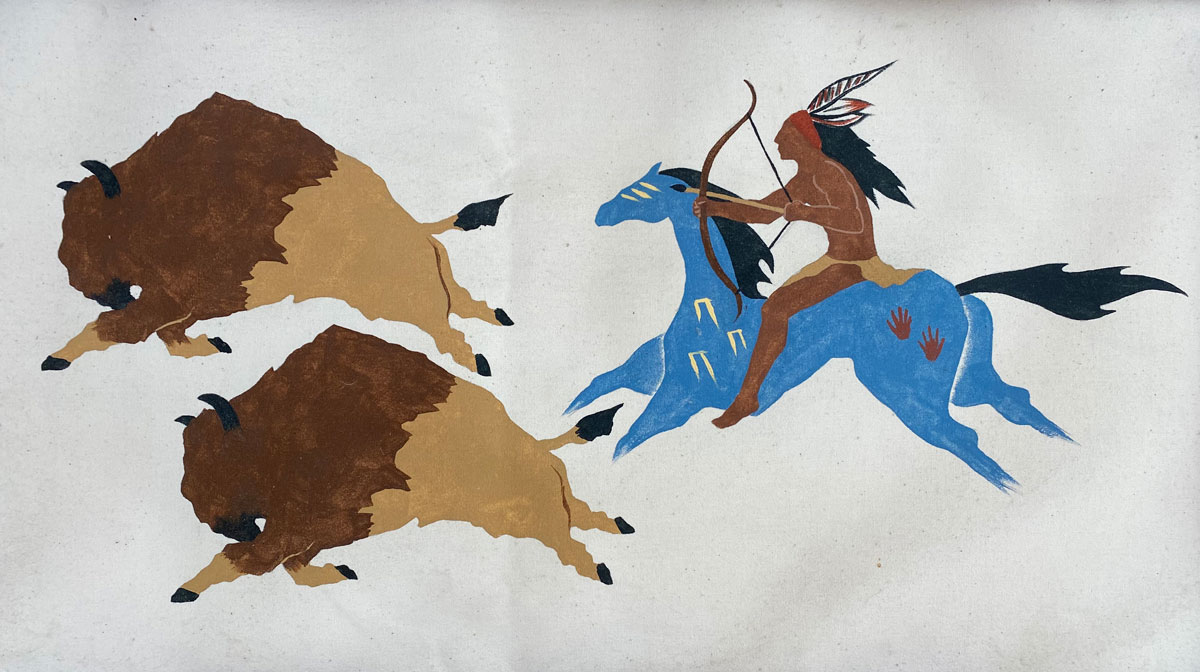 'Buffalo Hunter' in SW Paint